Archive
Herschel
TR. 2018 3D Modeling & Animation
_______________________________________________________
Vis.dy
TR. 2017
Gesture based wearable MIDI controller
Real-time audiovisual performances have always piqued my interest. Apart from the performances themselves, I'm also curious about the technology that underpins them. Many performers improve their equipment as technology advances, such as by purchasing new software or devices. It's significant since it assists in the development of their individual tastes. However, these advances are not always cost-effective.
During my senior year, I attempted to research gesture-based input devices that are less expensive yet just as effective as others. Visdy is a wearable performance aid that allows you to have more control over video media material. It uses bend and accelerometer sensors to turn hand movements into commands. It communicates to a computer via Bluetooth, which is a low-energy connection method. It works with most programs in the industry and provides MIDI signals, so it doesn't require any additional software.
_______________________________________________________
Burn Electronica Festival
TR. 2016 Live Visual Performance
Electronica Event, Turkey's first and most innovative electronic music festival, has attracted over 150.000 music fans and over 600 performers since its inception in 2004. Prepared pre-rendered animations and performed live visual performance for this project.
_______________________________________________________
Portraits
TR. 2016 Book, 72 page, Plexiglass & 3D Print
Narcissus is said to be the most attractive young man in Greece, but he never finds anyone attractive enough to love. Then one day he walks past a pool of water and sees himself reflected in it. He falls in love with the mirror and tries to kiss it, but the ripples cover the reflection when his lips meet the water. He sits and stares at the reflection till he dies of thirst, afraid of scaring away his newfound love.
Reflections have always attracted public's curiosity. We tried to modify our faces by employing filters when selfies became our social media messages. Is it because we are unsatisfied with ourselves or because we are more courageous than Narcissus? From then, I began to research several virtual reflections in order to find the answer.
_______________________________________________________
Link
JPN. 2016 Audio/Visual Mapping Performance
Landscape of Memory
DE. 2019 Visual Projection Mapping
While memory is one of the most important functions of human beings, it is also one of the most important capabilities that allow men to perceive and maintain their existence in the integrity of time and space.The general framework of memory, which is considered as an interdisciplinary concept is; experience, sensation,impression, and perception.


For this project, we created one 3D abstract object and had one render from it then printed on a A0 paper. We projected the object's shadows and lights to the paper with a projection which created an illusion like it was a screen.

Full Credit:

Sound Design:Daniel Bande
Documentation:Yasemin Okday
Concept and Animation: Mertcan Seker

_______________________________________________________
R.O.T. CAPPADOCIA
TR. 2016 Visual Mapping
This project represents the epic journey of our five billion year-old planet on Cappadocia Zelve Valley using 3D video mapping technique. In this project, the animations are made by OUCHHH company, production is made by FIKIRBAZZENGER. It is the largest mountain surface mapping and also considering as the first one with the longest screening time in the world as long as it can be seen there for 10 years.
You can experience the world's largest rocky surface mapping in the mystic atmosphere of Cappadocia Zelve Valley for 10 years, which is the longest screening time for a projection mapping on the world.
All phases of Cappadoccia's history ; beginning with the geographical formation and topographical transformations are animated using video mapping techniques. The first ages of civilization when the nature was full of secrets that human race can not explore and religion was comprising almost whole life, from the Hittites in Paleolithic age till today are visualized working on the valley's 12.000m2 surface as canvas.
Cappadocia area is one of the most beautiful combinations of the nature and history in world. After geographical transformations are formed the fairy chimneys, people sculpted their houses, churches into them and decorated using frescos. In this way, the marks of their culture are conveyed till today. Zelve Valley is a primordial area and it's known as the first place that Christianity started to spread around the field. There are monasteries, churches and human settlements.
The area has a geological structure and it has a great importance for tourism at the present time.
Full Credit:
Production Company: FikirbazZenger
Producer: Aşkın Elibol, Onur Umur
Animation Company: Ouchhh
Director: Ferdi Alıcı
Project Manager: Burcu Güçük
Project Manager:Kıvanç Aykan, Eylül Duranağaç
Lead 3d Animation: Orhan Sayın
3d and 2d Animation: Cavit Mert Köse, Efe Köse, Erhan Yıldız,
Firat Erkuş, Mertcan Şeker, Yagiz Mehdi Abbas
Storyboard: Yusuf Güçlü
Graphic Design: Atakan Işıksal, Tufan Kinas
Sound Design and Music: Audiofil (Alican Okan, Mehmet Ünal)
Technical Equipment: Astel
Technical Company: Visio-Vox
Special Thanks:
Ateş Savaşeri, Berkay Daver, Emre Kabak Durmuş,
Fethi Can Tüzel, Özgür Süzen , Selay Karasu, Sinan Duman
_______________________________________________________
22nd WPC 2017
TR. 2017 Visual Mapping
_______________________________________________________
Object 9
TR. 2018 Audio/Visual Mapping Performance
Energy neither be created nor destroyed, it only transforms into different forms.
Everything starts to grow from one little point, and this point triggers other forms to be one whole significant structure. In this project visual and sound interact with each other and transform into new energy which is embodied as a concrete object in printed 3d forms. The project is composed for Sonar Festival of 3 minutes animation and audio as a collaboration work of Mertcan Seker and Eda Er by Klank.ist and the printed objects are designed by Tridi.
_______________________________________________________
Connect
HKG. 2016 Public Data Light Sculpture
Ouchhh has transformed Hong Kong's International Commerce Center (The ICC) -one of the world's biggest structures that has a Guinness World Record-breaking 77.000 m2 LED surface area- into an audio/visual performance using sound, lights and data with the project "CONNECT," which received Honorable Mention from City University of Hong Kong's School of Creative Media. Using NASA's open source data, the ICC's base terrain data and the building's star pattern map just above it, we have created a data sculpture that acts as a bridge between Earth and the sky.
The project has been awarded by the City University of Hong Kong.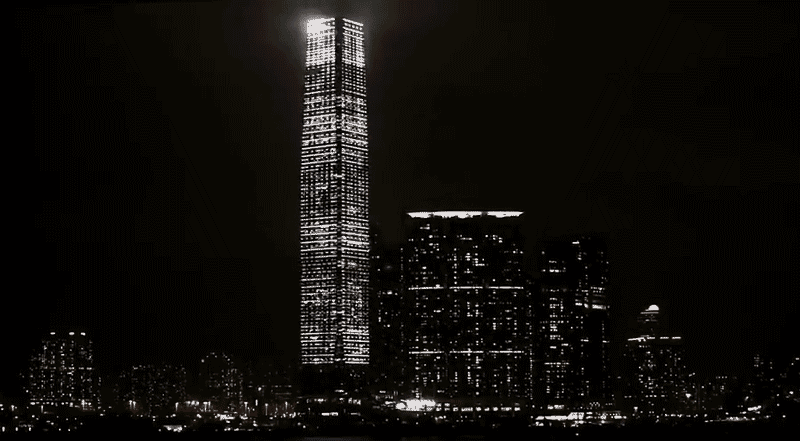 Full Credit
Direction&Animation: Ouchhh
Director:Ferdi Alıcı
Concept Development: Eylül Duranağaç, Ferdi Alıcı
A/V Artists: Mertcan Şeker, Ferdi Alıcı
_______________________________________________________
Iskeletor
TR. 2016 Music Video